HOLD ON!
There are versions of this character available that don't have their own branch articles!
Please help us document the following:
Akuma



Creator(s)

Various

Oldest version

Unknown

Newest version

DeathScythe's version (2019)

Origin
Akuma (known as Gouki in Japan) is a recurring character from the Street Fighter series, first appearing as a secret final boss in Super Street Fighter II Turbo and later as a recurring playable character. He also appears as a playable character in many of Capcom's crossover games, as well as a playable guest character in Tekken 7: Fated Retribution.
Akuma is Gouken's brother and a student of Goutetsu, who taught them both the art of the Satsui No Hado. Gouken left Goutetsu's dojo after he became aware that Satsui no Hado was an evil energy. Akuma, however, searching to become the strongest fighter in the world, pursued the path of the Satsui no Hadou, becoming an almost demonic-looking figure. After killing his master Goutetsu in a fair fight, Akuma seeks to completely master the Hado, and for such he searches for strong opponent to which he can have a fight to the death. He eventually learned that Ryu has a latent Satsui no Hado ability, so he tries to make Ryu follow it's path, though Ryu, knowing it is an evil power, struggles to get rid of it.
Akuma has a twisted moral code, as he himself does not challenge anyone and refuses to fight with anyone he perceives as being weak, since all of his fights are intended to be fights to the death. He also avoids using his full potential to avoid ending fights prematurely.
In M.U.G.E.N, Akuma has been made by various creators.
Felineki's version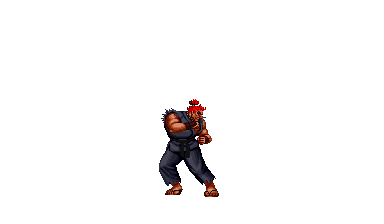 Felineki's Akuma captures the gameplay of Super Street Fighter 2 Turbo, while incorporating several modes.
See also
Rare Akuma - A joke version of Akuma with massive damage outputs, easy infinites, and various references and clichés
Oni - Akuma after he becomes one with the Satsui no Hadou in Super Street Fighter IV: Arcade Edition.
Community content is available under
CC-BY-SA
unless otherwise noted.