Bugs Bunny is a famous cartoon character made by Friz Freleng. He is widely known as one of the main characters in Looney Tunes, and for being very clever and sly with many other characters.
In M.U.G.E.N, Bugs Bunny has been created by various authors.
Storm0062's version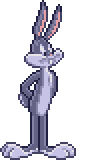 This Bugs Bunny can only do a handful of attacks and has erratic damage outputs, with one of its Hypers, Super/Hyper Spin, doing only minimal damage, while the other, Turtle Invasion, is an instant K.O. with screen-wide range and an overly long attack duration. This character's commands are very simple, allowing for its attacks to be activated without having to use any directional inputs, thus making it incredibly easy to play as.
In terms of A.I., Bugs Bunny uses the engine default, but because of the unbalanced nature of the character, it may still provide a reasonable challenge.
Stats
Movelist
Hovering the mouse cursor over the Command Input icons will display text that refers to the inputs set in M.U.G.E.N's Key Config.
Icons encased in square brackets [

] require the respective button(s) to be held down. Hovering the mouse cursor over the icon displays the hold duration if applicable.
Specials
Name
Command Input
Properties

| | | |
| --- | --- | --- |
| Dynamite Throw | | |
Name
Command Input
Properties

| | | |
| --- | --- | --- |
| Cake Throw | | |
Name
Command Input
Properties

| | | |
| --- | --- | --- |
| Dog Helper | + | |
Name
Command Input
Properties
Hypers
Name
Command Input
Properties

| | | |
| --- | --- | --- |
| Super spin | + | Uses 2000 Power |
Name
Command Input
Properties

| | | |
| --- | --- | --- |
| Hyper spin | + | Uses 2000 Power |
Name
Command Input
Properties

| | | |
| --- | --- | --- |
| Turtle Invasion | + | Uses 3000 Power |
Videos