Catherine Kyohbashi



Creator(s)

Barai

Download

Origin

Arcana Heart
Catherine Kyohbashi is one of the playable characters from Arcana Heart 2. She is a Japanese-American who fights with a large robot of her own design called Terry Yodogawa. Despite her unusual appearance and cheerful nature, she is an extremely intelligent genius, and enrolled at MIT at the extremely young age of ten. She is also the self-proclaimed rival of Kira Daidohji. Her Arcana is known as Median, and controls magnetism.
In M.U.G.E.N, she was made by Barai, and was the last of the playable Arcana Heart characters to be made into a MUGEN character, possibly due to the challenge of making such a character functional.
Barai's version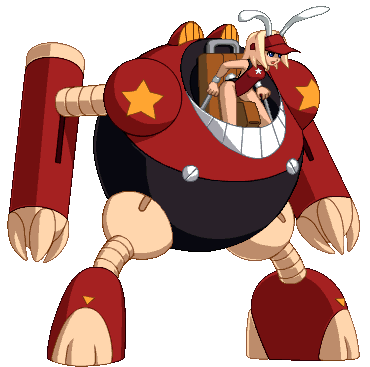 Catherine is an enormous character in comparison to most others that are intended to be playable, and this massive size is simultaneously one of her greatest strengths and biggest weaknesses. Her attacks with her mech are powerful, and in some cases deal out multiple hits, but are slow, and her increased range due to her size can be detrimental by making them extremely easy to hit and incapable of avoiding certain attacks even when crouching, a problem shared by Hydron and other characters of above average size.
Stats
Videos