HOLD ON!
There are versions of this character available that don't have their own branch articles!
Please help us document the following:
Classic Sonic



Creator(s)

Various

Oldest version

prowlerx083's version (2007)

Newest version

AngryBirdCooler's version (2017)

Origin

Sonic the Hedgehog
Classic Sonic is the name commonly given to the incarnation of Sonic the Hedgehog present during his first games, up until the release of Sonic Adventure on the Sega Dreamcast in 1998. This is his original design, which is almost the same as his present design except he is smaller, chubbier, younger, has black eyes instead of green, and is also silent in most of his appearances. This design was used from 1991 to 1998. In Sonic Adventure (or Sonic Adventure DX), Sonic gained a new design which is similar to the one being used today.
During Sonic's 20th anniversary in 2011, Classic Sonic made a comeback in Sonic Generations, where he teamed up with Modern Sonic (his older self) in order to stop Dr. Eggman and his classic counterpart, Dr. Robotnik, who altered time and space with a monster called the Time Eater.
Originally, Sega stated that Classic Sonic wasn't likely to make a comeback in future games. However, at E3 2016, Classic Sonic was revealed to be making another return to SEGA fans in two upcoming games: Sonic Mania, and Sonic Forces.
In M.U.G.E.N, Classic Sonic has been made by various creators.
prowlerx083's version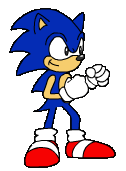 A six-button version of the original blue-speedster, this version of Classic Sonic is MVC-styled, has custom-made sprites and of course comes equipped with his usual Spin Dash, among other new moves.
Tanicfan22's version
This version has various moves where it turns into a Werehog and Super Sonic, as well as a seemingly useless Hyper, but is still limited in terms of attacks, and is also a very small character, making it hard to hit them. Its A.I. is very easy to beat.
Supermystery's version
Supermystery's Sonic plays just like Sonic from Sonic the Hedgehog 2. It can collect rings to sustain damage (it can only lose health when it has no rings), break item boxes (Super Ring, Shield, Power Sneakers, and Invincibility do what you would expect, 1-up box makes it regain some health), and even turn into Super Sonic when 50 or more rings have been collected.
Videos