Dark Samus



Creator(s)

BaganSmashBros

Download

Origin

Metroid
Dark Samus is the primary antagonist of Metroid Prime 3: Corruption, and by extension, the entirety of the Metroid Prime Trilogy. She is a sentient being of Phazon that takes on the form of Samus Aran after she absorbs Samus' Phazon Suit, and thus her DNA.
Dark Samus made her first appearance in the original Metroid Prime in a brief cutscene that was viewable after the end credits if the player achieved 100% item completion, where her hand was seen emerging from a Phazon puddle that was the remains of the game's final boss. She made her first full appearance in Metroid Prime 2: Echoes, where she was seen scouring both Aether and Dark Aether in search of Phazon, and was fought several times as a boss.
It was not until Metroid Prime 3: Corruption that Dark Samus took the role of primary antagonist, crashing Leviathan Seeds into various planets in an attempt to corrupt them with Phazon; Dark Samus also corrupts Samus during the events of the game, something which ultiamately turns out to be her undoing, as it allows Samus to land on the planet Phaaze and defeat her for good.
Dark Samus made an appearance in Super Smash Bros for Wii U and 3ds as an Assist Trophy; when summoned, she would fire various Phazon based projectiles at other fighters.
In M.U.G.E.N, Dark Samus has been made by BaganSmashBros. Its sprites are made from Dark Samus' Metroid Prime 3: Corruption model, and as such, its animations are very smooth.
BaganSmashBros' version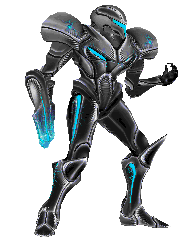 Dark Samus is a 6-button character with three specials and four hypers. Due to its hefty sprite file containing 3392 sprites, certain computers may have trouble loading the character without lag. It has flaws in its "Dark Echo" clone, including moving with player's commands when standing. She has a special winning animation against Varia31's Samus Aran.
Movelist
Hovering the mouse cursor over the Command Input icons will display text that refers to the inputs set in M.U.G.E.N's Key Config.
Icons encased in square brackets [

] require the respective button(s) to be held down. Hovering the mouse cursor over the icon displays the hold duration if applicable.
Specials
Name
Command Input
Properties
Name
Command Input
Properties

| | | |
| --- | --- | --- |
| Shinespark into Dive Bomb | | |
Name
Command Input
Properties
Hypers
Name
Command Input
Properties
Name
Command Input
Properties
Name
Command Input
Properties
Name
Command Input
Properties

| | | |
| --- | --- | --- |
| Dark Echo | | Creates a clone |
Videos