HOLD ON!
There are versions of this character available that don't have their own branch articles!
Please help us document the following:
HOLD ON!

There are file links on this page that are either broken or relying on an archived link. This applies to the following download link(s):

Please replace them with the latest working links!
Donkey Kong (often abbreviated to just DK) is a brown-furred ape created by Nintendo. He first appeared as the main villain of the 1981 arcade game Donkey Kong while his grandson, also named Donkey Kong, appears as the titular main protagonist of Donkey Kong Country series.
Originally Mario's pet, Donkey Kong kidnaps Mario's then-girlfriend Pauline after making his escape. Mario manages to recapture him, only to be rescued by his son Donkey Kong Jr. The two later relocate to DK Isle where he then takes on the name "Cranky Kong". Years later, his grandson, donning his original name, then goes through various levels to reclaim his stolen banana horde from King K. Rool and his band of Kremlings, as well as collecting items such as Kong letters and puzzle pieces.
In M.U.G.E.N, Donkey Kong has been created several times by various creators. The most well known versions are Infiinma's DK and Aperson98's DK. These 2 versions use sprites taken from Donkey Kong Country SNES game.
Infiinma's version
Possibly the earliest documented DK in M.U.G.E.N, this character is very simple. It only harbors basic attacks, but still is able to deal heavy amounts of damage from just its basics. It seems to also play more like a platformer character.
S.Nara's version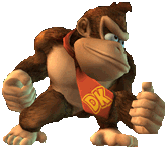 Would Donkey Kong ever be able to masquerade as both the ruler of Kongo Bongo AND the god of thunder? Absolutely not. This character's incredibly poor gameplay, sloppy coding and poorly ripped sprites make it an absolute zero, and nobody's hero.
Alexander Williams' version

Another version of Donkey Kong that is reasonably easy to pick up and play for beginners, as it offers simple Specials and Hypers at the press of a button. It was also made for Alexander Williams' Nintendo Fighters Remix fullgame.
Videos