Glaceon



Creator(s)

Yogoreneko
Naoki2534

Download

Origin
Glaceon is an Ice-type Pokémon from the Pokémon series. It is one of the eight possible evolutions of Eevee, with the others being Vaporeon, Jolteon, Flareon, Espeon, Umbreon, Leafeon and Sylveon. It appears at #170 in the Sinnoh and #471 in the National Pokédex.
This Pokémon is very proud and arrogant because of their physical beauty and elegant way to attack. Glaceon is the most sensitive with respect to personality along with Jolteon, but unlike them, Glaceon is cold in appearance and shows an unreal strength. Glaceon's blood contains an antifreeze effect that prevents its body from freezing due to low temperatures. In the wild usually live on top of the snowy mountains where can spend whole winters without eating.
In M.U.G.E.N, Glaceon was the first Eevee-evolution created by Yogoreneko, however, the files were damaged due to a general breakdown of the server. Luckily, the files are currently being fixed by Naoki2534. This character is same as Yogoreneko's other Eevee-evolutions in the aspect that it deals no block damage. It also it has a large power meter that can hold up to 10000 power, however, its level one hypers are weak. It should be noted that Glaceon's ice projectiles are similar to Cirno's from Touhou Hisoutensoku.
Gameplay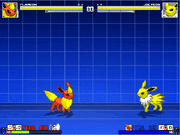 The Gameplay is very similar to other Yogoreneko's Eevee-evolutions and has built-in meters:

The FINAL ARM meter, which when filled up will allow the user to perform a move that is a potential One Hit K.O.
A Special Meter, which is tied to special attacks and certain hypers. It regenerates over time. If completely depleted, it will be unavailable until it charges up.
Defense (Green) & Attack (Red) monitors are affected by certain events in the fight, and get restored when the round ends.

Some other meters such as Yawn and Wish show the time before they take effect.
Palette Gallery
Trivia
Currently all other palettes flash back and forth to the original palette during actions.