Honedge is a Steel/Ghost-type Pokémon from the Pokémon series. It is the first stage of the Aegislash evolution family, and it appears at #117 in the Central Kalos Pokédex and #679 in the National Pokédex.
A sword possessed by an ancient spirit, anyone who wields this Pokémon will feel their soul being taken from them. It is normally seen encased in its own scabbard, but will unsheathe itself during combat.
In M.U.G.E.N, Honedge has been created by Janeco. It uses custom sprites as well as various slashing, slicing and sword-based sound effects and attacks.
Janeco's version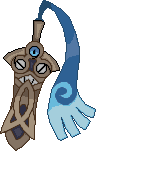 Like Satanchu's Chespin and Sudara13's Onvern, Honedge is one of the first known M.U.G.E.Nised Pokémon to originate from the sixth generation Pokémon games. This character is certainly a cheap character, as one of its Hypers doubles the damage of all but one of its attacks; was it also mentioned that this effect can stack up to three times for up to quadruple the original damage?