This article is about the character based on the M.U.G.E.N engine. For the article about the engine itself, see M.U.G.E.N.
M.U.G.E.N is a 2D fighting game engine developed by Elecbyte. It is unique in that users can create characters and stages for others to download and add to the engine.
M.U.G.E.N itself has been made as a character in M.U.G.E.N by Ironcommando.
Ironcommando's version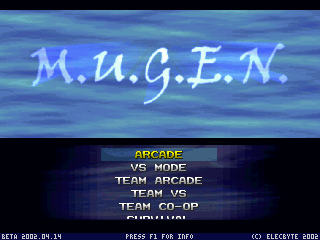 The end result of Ironcommando being in a particularly foul mood, to assume MUGEN is as cheap as the creator's other characters would be completely wrong, with the character existing solely to serve as a punching bag upon which fury-driven beat-downs are brought; featuring the title screen of WinMUGEN as its only sprite, this character stands as a testiment to how infuriating the engine can be at times.
Community content is available under
CC-BY-SA
unless otherwise noted.