Marowak



Creator(s)

Ghosteo

Download

Origin
Marowak is a Ground-type Pokémon from the Pokémon series. It evolves from Cubone, and has a regional variant in the Alola region known as Alolan Marowak. It appears at #105 in both the Kanto and National Pokédexes.
Marowak are always seen carrying bones that they use as clubs in battle. They often swing these bone clubs around viciously and use them as boomerangs, both methods causing some damage to others. Their heads are covered with a thick skull-like plating, allowing them to withstand powerful attacks. Marowak that are native to the Alola region have developed into Ghost/Fire-type Pokémon as an adaptation to their Grass-type natural predators exclusive to that region, causing them to form close social bonds that ultimately developed into a sixth sense; this sixth sense allows them to channel the vengeful spirits of their deceased mothers, which act as these Pokémon's protective spirits.
In M.U.G.E.N Marowak has been made once by Ghosteo, based on its Normal forme; it was solely intended to be used with the creator's Pokémon GT full game, which prevents it from being able to inflict damage upon regular characters.
Gameplay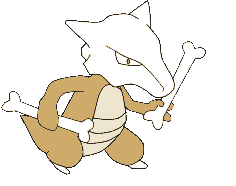 Being a character from the elusive M.U.G.E.N game, Pokemon GT, Marowak can only attack other characters from said game due to the specialised Pokémon-esque battle system the characters run off, thus making it impossible for it to win against any regular character. According to its portrait, Marowak is an "all around" fighter, though of course, this is in relation to the game it originates from, and not necessarily regular M.U.G.E.N.
Stats
Movelist
This character does not have any Special or Hyper Attacks.
Palette Gallery
Videos