Megatron



Creator(s)

Omega Supreme

Download

Origin

Transformers
Megatron is a character from the Transformers series famed for being the leader of the Deceptions, a group of ruthless and evil Transformers with the intention of conquering every planet in the universe. The Autobots and the Decepticons fought against each other in a massive war that tore their homeworld of Cybertron apart. In one continuity, Optimus Prime considered Megatron his brother.
A creator known as Omega Supreme created Megatron for M.U.G.E.N. The design is based on the Megatron from the original series of Transformers, much like the other Transformers chars created by Omega Supreme.
Omega Supreme's version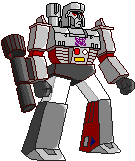 Megatron is a four-button character similar to Kung Fu Man; he has a moveset featuring both weaker and powerful moves, including projectiles and melee moves that are similar to what he uses in the Transformers cartoon, one of which being his Fusion Cannon that deals tremendous damage to his opponent. He has the ability to summon some of the other Decepticons as Strikers, including Thundercracker who drops bombs into the opponent.
Stats
Movelist
Hovering the mouse cursor over the Command Input icons will display text that refers to the inputs set in M.U.G.E.N's Key Config.
Icons encased in square brackets [

] require the respective button(s) to be held down. Hovering the mouse cursor over the icon displays the hold duration if applicable.
Specials
Name
Command Input
Properties
Name
Command Input
Properties

| | | |
| --- | --- | --- |
| Thundercracker impact aid | | |
Name
Command Input
Properties
Name
Command Input
Properties
Name
Command Input
Properties

| | | |
| --- | --- | --- |
| Power hammer up-strike | or | |
Hypers
Name
Command Input
Properties

| | | |
| --- | --- | --- |
| Power hammer 3 level rush | or | Uses 1000 Power |
Name
Command Input
Properties

| | | |
| --- | --- | --- |
| Fusion Cannon Blast | or | Uses 2000 Power |
Name
Command Input
Properties

| | | |
| --- | --- | --- |
| Starscream spraying bomb aid | or | Uses 2000 Power |
Name
Command Input
Properties

| | | |
| --- | --- | --- |
| Transform | or | Uses 3000 Power |
Videos