HOLD ON!
There are versions of this character available that don't have their own branch articles!
Please help us document the following:
Meta Knight



Creator(s)

Various

Oldest version

Unknown

Newest version

Unknown

Origin

Kirby
Meta Knight is one of the many different characters in the Kirby universe. He has played both protagonistic and antagonistic roles throughout the series, though most of his antagonism is actually to test Kirby.
Meta Knight is skilled in the art of swordsmanship, thus making him a formidable opponent. He has appeared in many Kirby games as a boss of which Kirby must defeat, but on certain occasions will aid Kirby in his quests. He never deliberately shows his face, instead masking it, though when defeated in battle, his mask generally falls off, revealing that he looks like a blue Kirby. Meta Knight also has a ship called the Halberd.
In M.U.G.E.N, Meta Knight has been created various times by different authors. Most versions use sprites from the Kirby games, though Claymizer's Meta Knight uses custom ones.
Claymizer's version

This custom-sprited version of Meta Knight is heavily inspired by its Super Smash Bros. Brawl counterpart, although it might be a little too heavily inspired, as its attack speed is blindingly fast to the point that the character feels less combo heavy and more spam happy, which would easily qualify it for M.U.G.E.N's SS tier.
S.Nara's version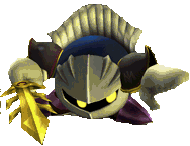 Its photo-shot sprites may give away who made it, but this is one incredibly odd version of Meta Knight. Its lack of balance and power reliance as well as its abundance of infinites will cause not just weak pathetic fools to bow down, but also those looking for quality creations.
Videos