HOLD ON!

There are file links on this page that are either broken or relying on an archived link. This applies to the following download link(s):

Omega Sheng Long Budokai 3D

Please replace them with the latest working links!
HOLD ON!
There are versions of this character available that don't have their own branch articles!
Please help us document the following:
Omega Shenron is the final major villan in Dragon Ball GT. He is one of the shadow dragons that was created via a wish. In this case, he was created from the wish to revive all those killed from Frieza's rampage.
Originally known as Syn Shenron, his ability is to gain strength by absorbing the titular dragon balls (which is also how he gained his omega form). He doesn't have any elemental powers unlike his six other siblings, but makes up for it by simply being the strongest out of the shadow dragons, even in his base form.
In M.U.G.E.N, Omega Shenron has been created by Gladiacloud and Rabani94.
Gladiacloud's version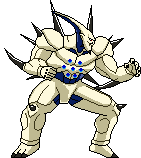 Gladiacloud's send off to the "Dragon Ball" universe consisted of this character. Being one of the most powerful characters in the source material, it can live up to its name in the hands of an experienced player.