HOLD ON!
There are versions of this character available that don't have their own branch articles!
Please help us document the following:
SpongeBob SquarePants



Creator(s)

Various

Oldest version

UchihaCody's version (2001)

Newest version

Unknown

Origin

SpongeBob SquarePants
SpongeBob SquarePants is the main protagonist and the eponymous character of the Nickelodeon animated comedy of the same name.
SpongeBob is a childish, eccentric sea sponge who lives in a pineapple in the underwater city of Bikini Bottom. He works as a fry cook at the Krusty Krab, a job which he is exceptionally skilled at. SpongeBob lacks a lot of knowledge and is a constant annoyance to those around him (especially Squidward Tentacles), but he is very good natured (or at least he tries to be). He appears in all of the episodes in the series. He is also a star of many YouTube Poops.
In M.U.G.E.N, Spongebob has been made by various authors.
Doug1105's version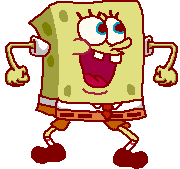 With custom sprites and a familiar magenta outline, it's pretty obvious who made this character -- actually, it was one of his first. There's a noticeable hint of Marvel vs. Capcom in this character, but unlike many others, it doesn't use that infamous template.
Trivia
ABSOLUTE-Yveltal's Dark Spongebob has strikers such as Mewtwo, Dark Sanders and Noivern. ABSOLUTE stated that Dark Spongebob is mostly a parody of these characters and is not to be taken seriously.
ABSOLUTE-Yveltal's Dark Spongebob has a special intro when fighting Blazing Colonel, another edit by the same author. He also has the same intro when fighting himself and when fighting Felix's Spongebob.
Videos
Community content is available under
CC-BY-SA
unless otherwise noted.