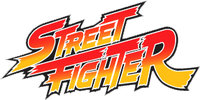 Street Fighter is a fighting game series created by Capcom. It's known to be one of the first and most popular fighting game franchises, and is a large inspiration for the M.U.G.E.N game engine. Street Fighter characters are some of the most common M.U.G.E.N characters, and almost every character from it has been made for M.U.G.E.N.
The series itself has spawned over 5 main titles along with several remakes and updates. The series has also crossed over with other Capcom series as well as SNK, Marvel, Namco, and Tatsunoko characters.
Characters
Street Fighter
Retsu
Geki
Joe
Mike
Gen
Eagle
Street Fighter II
E. Honda
Dhalsim
Balrog
T. Hawk
Cammy White
Fei Long
Dee Jay
Violent Ken
Street Fighter Alpha
Rose
Dan Hibiki
Shin Akuma
Rainbow Mika
Street Fighter III
Street Fighter IV
Street Fighter V
Community content is available under
CC-BY-SA
unless otherwise noted.