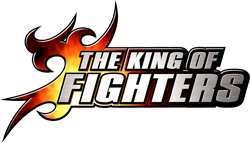 The King of Fighters, officially abbreviated KoF, is a popular fighting game franchise from SNK/Playmore. Starting with The King of Fighters '94 released in 1994, the series was originally conceived as a crossover title between SNK's various intellectual properties at the time, featuring characters from series such as Art of Fighting and Fatal Fury, with the only exceptions being Kyo Kusanagi and Rugal Bernstein, both of whom were originally created for The King of Fighters '94 as the main protagonist and final boss, respectively. The series would eventually become SNK's flagship series, with over 100 characters having been introduced into the series over 17 main series games.
The plot of these games center around an annual "King of Fighters" tournament, which series main characters Kyo Kusanagi and Iori Yagami participate in, amongst many other characters. However, midway through the competition, evil forces intervene, forcing the winning (player's) team to take action and defeat these forces, often manifested as a boss character or two.
This series is also infamous for its SNK Boss Syndrome, with bosses possessing exceedingly good range and priority on their attacks. Many of its bosses have been known to be the first examples of numerous boss-style attacks, such as screen fillers and energy pillars.
Characters
The Orochi Saga (The King of Fighters '94-'98)
Andy Bogard
Joe Higashi
Athena Asamiya
Sie Kensou
Chin Gentsai
Goro Daimon
Benimaru Nikaido
Brian Battler
Kim Kaphwan
Chang Koehan
Choi Bounge
Heidern
Ralf Jones
Clark Still
King
Takuma Sakazaki
Billy Kane
Eiji Kisaragi
Omega Rugal
Saisyu Kusanagi
Kasumi Todoh
Vice
Mature
Wolfgang Krauser
Mr. Big
Goenitz
Chizuru Kagura
Blue Mary
Ryuji Yamazaki
Chris
Yashiro Nanakase
Shingo Yabuki
Orochi Iori
Orochi Leona
Orochi Chris
Orochi Shermie
Orochi Yashiro
Orochi
The NESTS Saga (The King of Fighters '99-2002)
Maxima
Whip
Li Xiangfei
Bao
Jhun Hoon
Kyo-2
Krizalid
Ramon
Lin
Seth
Hinako Shijou
Kula Diamond
Clone Zero
Angel
Foxy
K9999
Original Zero
Igniz
Kusanagi
Nameless
The Ash Saga (The King of Fighters 2003-XIII)
Duo Lon
Shen Woo
Malin
Gato Futaba
Tizoc
Adelheid Bernstein
Maki Kagura
Mukai
Oswald
Elisabeth Blanctorche
Duck King
Gai Tendou
Silber
Jyazu
Sho Hayate
Shion
Magaki
Tung Fu Rue
Hotaru Futaba
Raiden
Hwa Jai
Evil Ash
The Verse Saga (The King of Fighters XIV-XV)
Shun'ei
Alice Garnet
Nakoruru
Sylvie Paula Paula
Stages
Community content is available under
CC-BY-SA
unless otherwise noted.