HOLD ON!
There are versions of this character available that don't have their own branch articles!
Please help us document the following:
Venom



Creator(s)

Various

Oldest version

Carnificina's version (2000)

Newest version

Origin

Spider-Man
Venom is a character from Marvel's Spider-Man comics. He is an alien parasite called a symbiote that bonds to a host, giving said host powers similar to Spider-Man, but much more powerful.
The most famous host was Eddie Brock. He most often serves as a villain who wants to get revenge on Peter Parker for ruining his journalism career, but often serves as an anti-hero even teaming up with his enemies against greater threats (such as Carnage).
In M.U.G.E.N, There are many versions of Venom, with the most notable being made by Juan Carlos, Big Eli King (XCB), and T.O.P.S, the first of which has been updated by Magus.
Juan Carlos's version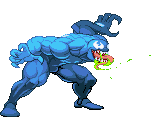 One of the earliest versions of Venom to appear in M.U.G.E.N was made by the late Juan Carlos. It is quite buggy like many earlier characters, but still works and plays decent today.
Big Eli King's version
This version Venom is a hybrid of the first two Marvel vs. Capcom entries and will fit what's left of Spider-Wuss into a matchbox sooner or later. If that isn't enough, it can also turn into Venom EX in the midst of battle. Many aesthetics were also altered from the source, such as the palettes and the sound effects.
Sludge's version
While it is still an ordinary version of Venom at its core, it manages to have an extra hyper. It was also included in Super Marvel vs. Capcom: Eternity of Heroes.
Kong's version
Like Kong's other characters, this symbiote crook attempts to emulate Marvel vs. Capcom 2. It also contains adjustable A.I levels.
Unkoman's version
This editon of Venom seems to be based off of Marvel vs. Capcom 2, having its moves from said game. It also features new fancy Hyper effects.
T.O.P.S, spaceman and Angelus_Silverhead's version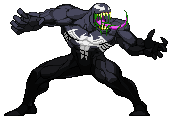 Most Venom characters attempt to be accurate to the Marvel vs. Capcom games. Not this one. This one is going end the lives of many weak spoil-sports who will go up against its custom gameplay and sprites.
Videos
Trivia
Sander71113 stated in the readme of his Wolverine that he had a version of Venom in development. He cancelled it due to boredom and the lack of decent Wolverine conversions.