Vergil



Creator(s)

Download

Origin

Devil May Cry
Vergil is the primary antagonist and final boss of Devil May Cry 3, as well as a playable character in both Devil May Cry 3: Special Edition and Devil May Cry 4: Special Edition. He also appears as a recurring boss character in Devil May Cry under the name Nelo Angelo. An alternate universe version of Vergil also exists as both anti-hero and final boss of DmC: Devil May Cry.
In the main series, Vergil is a half-human, half-demon son of Sparda, the older twin brother of Dante, and Nero's biological father. Originally close to Dante, Vergil was motivated by the death of his mother, Eva, to seek more power under the belief that "might controls everything", and is willing to disregard anything in order to obtain the power of his father, Sparda. Due to this, Vergil chooses to embrace his demonic heritage while sporting a calm and calculating demeanor. During the events of Devil May Cry 3, Vergil intends to awaken the true power of the Force Edge, a sword left behind by his father, in order to name himself as Sparda's true successor. After he fails to do so by being defeated by Dante, he exiles himself in the demon world, where he is then confronted by the demon emperor, Mundus. Seeking the opportunity to redeem himself, he strikes at Mundus, but is ultimately defeated and killed. Seeing the opportunity to disgrace Sparda's name, Mundus resurrects Vergil and brainwashes him, turning him into Nelo Angelo as his personal slave.
In the alternate universe series, Vergil is the leader of the group known as "The Order", who oppose Mundus's rule over humanity. He eventually finds Dante and recruits him after years of separation, working with him to bring down Mundus. While they are ultimately successful, Vergil eventually reveals that his intention to bring down Mundus was fueled by his own desire to rule humanity as a protective master. Unable to convince Dante to join him, the two fight, with Dante being the victor. Vergil escapes, but eventually succumbs to his own hatred for his brother, completely discarding his human heart and becoming the new demon king.
In M.U.G.E.N, Vergil has been made by Bugya.
Bugya's version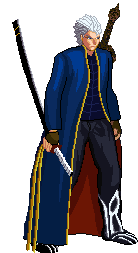 Vergil's moveset is heavily inspired by his playable moveset in Devil May Cry 3: Special Edition. However, Vergil also sports new tools in the form of a projectile block, Block, Summoned Swords, an enhanced version of Helm Breaker and Final Judgment Cut, all of which are derived from his final boss form in Devil May Cry 3, as well as certain elements taken from Ultimate Marvel vs. Capcom 3. Also much like Devil May Cry 3, Vergil's Normals can produce a different sequence of attacks if chained in a specific order, unlike most other Chain Cancels. Much like his source game, Vergil is capable of using Air Trick to apply offensive pressure on the opponent by creating ambiguous mix-ups. As such, Vergil is best played as an offensive rushdown character. Vergil is also capable of zoning through the use of Judgement Cut, which can also be incorporated into his combos.
Movelist
Hovering the mouse cursor over the Command Input icons will display text that refers to the inputs set in M.U.G.E.N's Key Config.
Icons encased in square brackets [

] require the respective button(s) to be held down. Hovering the mouse cursor over the icon displays the hold duration if applicable.
Name
Command Input
Properties
Name
Command Input
Properties
Name
Command Input
Properties
Name
Command Input
Properties
Name
Command Input
Properties
Name
Command Input
Properties

Air Trick
+ or + or +

Teleport
version: To enemy
version: Away from enemy
version: Up
Name
Command Input
Properties
Name
Command Input
Properties

| | | |
| --- | --- | --- |
| Aerial Rave | (up tp 4 or 6 times), | |
Name
Command Input
Properties

| | | |
| --- | --- | --- |
| Upper Slash | + | Press again for additional attack |
Name
Command Input
Properties
Name
Command Input
Properties

| | | |
| --- | --- | --- |
| Rapid Slash | | |
Name
Command Input
Properties

| | | |
| --- | --- | --- |
| Block | | [ ] to block until release |
Name
Command Input
Properties

| | | |
| --- | --- | --- |
| Counter | + | |
Name
Command Input
Properties
Name
Command Input
Properties
Name
Command Input
Properties

| | | |
| --- | --- | --- |
| Stinger | | |
Name
Command Input
Properties
Name
Command Input
Properties

| | | |
| --- | --- | --- |
| Blistering Swords | | Can only be performed while Summoned Swords is active |
Name
Command Input
Properties
Hypers
Name
Command Input
Properties

| | | |
| --- | --- | --- |
| Summoned Swords | [ ] or | uses 1000 power |
Name
Command Input
Properties

| | | |
| --- | --- | --- |
| Dimension Slash | | uses 1000 power |
Name
Command Input
Properties

| | | |
| --- | --- | --- |
| Devil Trigger Vergil's Dark Ki : 2 | | uses 1000 power |
Name
Command Input
Properties

| | | |
| --- | --- | --- |
| Devil Trigger Rapid Slash | | uses 1000 power |
Name
Command Input
Properties

| | | |
| --- | --- | --- |
| Super Starfall | | uses 1000 power |
Name
Command Input
Properties

| | | |
| --- | --- | --- |
| Devil Trigger Helm Breaker | | uses 2000 power |
Name
Command Input
Properties

| | | |
| --- | --- | --- |
| Devil Trigger Judgment Cut | | uses 3000 power |